The Deep Learning DevCon (DLDC) 2023 was concluded on 27th May 2023, leaving participants inspired and equipped with valuable insights into the ever-evolving realm of deep learning. This premier event brought together leading experts, researchers, and industry practitioners to share their knowledge and expertise on deep learning, generative AI, and large language models (LLMs). Let's take a closer look at the remarkable sessions and notable speakers that graced this groundbreaking conference.
Session Highlights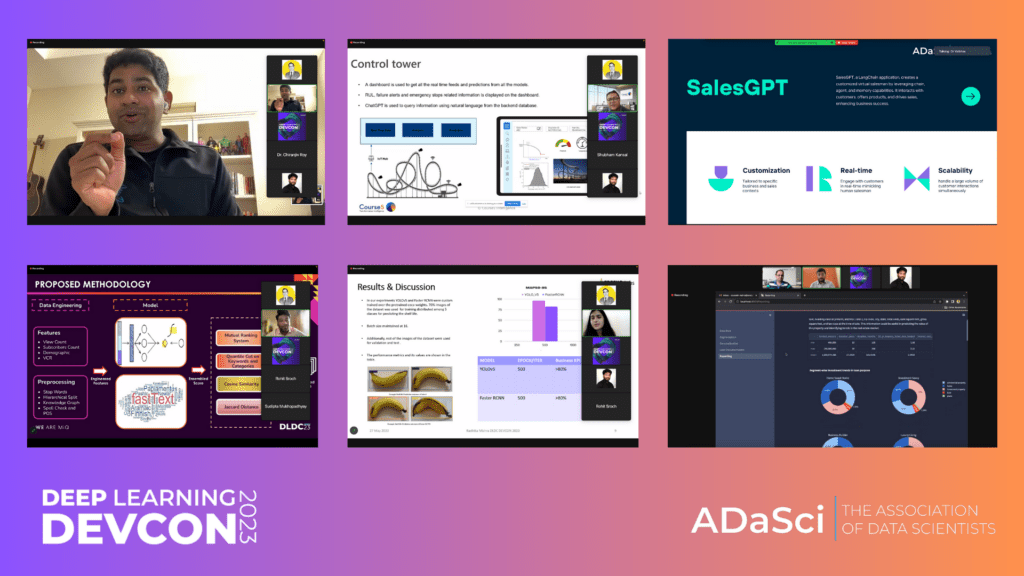 At DLDC 2023, Rathnakumar Udayakumar, Product Leader – Cloud and AI at Netradyne, delivered an enlightening session on the transformation of investment strategies and risk assessment in the finance industry through generative AI. Dr. Chiranjiv Roy, VP and Global Head of Data Sciences & Applied AI at Course5i, captivated the audience with his session on revolutionizing roller coaster safety. He showcased the seamless integration of computer vision, IoT, and large language models, highlighting their pivotal role in ensuring utmost safety and creating immersive experiences in amusement parks.
Gaurav Adke, Senior Manager, Data Science at Michelin, presented an intriguing session on the use of deep learning for decoding complex CAN bus data in vehicle analysis. Participants gained insights into how deep learning techniques can decode intricate vehicle data, contributing to improved automotive performance, maintenance, and overall efficiency.
Dr. Vaibhav Kumar, Senior Director at The Association of Data Scientists, introduced LangChain, an innovative technology that harnesses the potential of generative AI for solving industry-specific challenges. Attendees were captivated by LangChain's ability to generate tailored solutions using large language models and generative algorithms.
Paritosh Sinha, Senior Data Scientist at Uber, shared valuable insights in his session on leveraging language models for extracting actionable insights from machine logs. Attendees learned how large language models can detect patterns, identify anomalies, and improve system reliability. Indrajit Kar, an AI and Data Science Thought Leader presented an engaging session on the extraction of information from multi-modal cheques using large language models. Participants gained a comprehensive understanding of how large language models can process and extract valuable data from diverse cheque formats, showcasing their applications in the financial domain.
Its a Wrap
DLDC 2023 was a resounding success, bringing together industry experts and thought leaders to discuss and showcase the latest advancements in deep learning, generative AI, and large language models. The sessions presented a wealth of knowledge, spanning finance, safety, automotive analysis, industry applications, and more. Attendees left with a deeper understanding of the power and potential of these technologies, paving the way for further innovation and progress in the field. DLDC 2023 has undoubtedly left an indelible mark on the world of deep learning, inspiring participants to push the boundaries and unlock new possibilities.

Note: This blog is a brief summary of the DLDC 2023 sessions. For more detailed information, access to the session recordings.